Is it time to treat yourself to the bathroom of your dreams? You spend so much time in your bathroom every morning and evening, so you deserve for it to be a room you actually enjoy being in! If this isn't the case, you need an upgrade ASAP. Keep reading to find out our top design and installation tips for your new bathroom.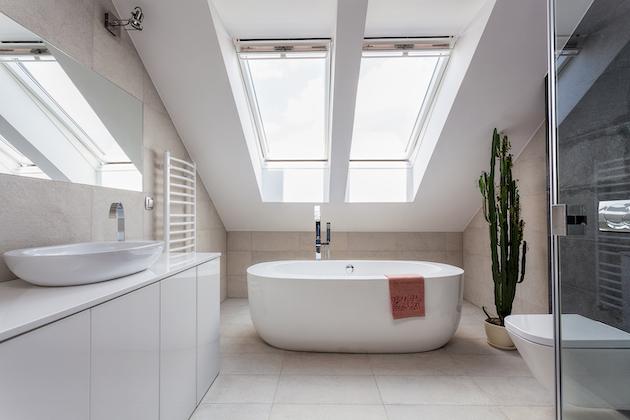 1. Change up the floor
If you aren't happy with your bathroom floor, swap it for something more practical. Floors such as lino or tiles can make your bathroom feel much more modern and stylish.
2. Consider your storage options
Bathrooms can easily become very cluttered and messy, as they are used so frequently by the whole family. To avoid this as best as you can, consider storage options such as a mirrored cupboard, under the sink storage or handy shelving units.
3. Think about lighting
Bathroom lighting is key, as it is where you are likely to find yourself getting ready the most. The ideal bathroom lighting is above the mirror, as well as smaller lights either side to reduce shadows. We also recommended white bulbs, to help your bathroom look more natural.
4. Why not have a statement piece bath?
If your bathroom has enough space to allow it, why not consider investing in a statement bath. Freestanding bathtubs can look very attractive, as well as giving your bathroom a more stylish feel.
5. Keep in mind your bathroom needs
When deciding on your dream bathroom, keep in mind who will be using it. Things such as double sinks and vanities are a great way to maximise the use of your bathroom.
6. Upgrade your shower
If you currently have a shower curtain, why not switch to a screen instead? Glass screens look much more stylish, as well as lasting much longer. Alternatively, why not upgrade your shower head? Swapping to a power shower or a waterfall head can be just the luxury you need.
7. Wall mounting furniture
This is especially useful if you have a smaller bathroom. Wall mounting your sink, mirrors and shelves can free up some valuable floor space. Not only this, but it also looks very stylish and effective.
Is it time for a new bathroom in Eastleigh?
At D. Rice Installations, we install bathrooms across Eastleigh, Chandlers, Ford, Winchester, Southampton, Hedge End, West End, Bishopstoke, Fair Oak, Titchfield and Botley. For more information, give us a call on 02380614277, fill out the contact form on our website, or email us at info@driceinstallations.co.uk. We hope to hear from you soon!